To most pharmacists, the idea of working for the navy is a pipe dream. But Welsh pharmacist Raj Aggarwal OBE has been collecting accolades from the force over the last two years, culminating in his promotion to honorary captain.
The award, which is equivalent to the rank of honorary colonel in the army, was for his voluntary work as an ambassador for the force – rather than as a military pharmacist. It follows him becoming the first Indian-born honorary officer in the Royal Navy in September 2018.
Mr Aggarwal received the promotion at a ceremony in Birmingham in February. The Royal Pharmaceutical Society fellow says he is keen to use his new position to encourage diversity in the navy. He is also superintendent pharmacist for Central Pharmacy in Cardiff.
A naval ship in Hindu lights
Mr Aggarwal's work as an honorary officer led to his affiliated ship, HMS Dragon, being lit up at sea in red, blue, orange and green to celebrate Diwali – the Hindu festival of lights – in October last year. The 200-odd sailors on board enjoyed a traditional Indian feast. This was the first time a British naval vessel had formally marked a Hindu festival.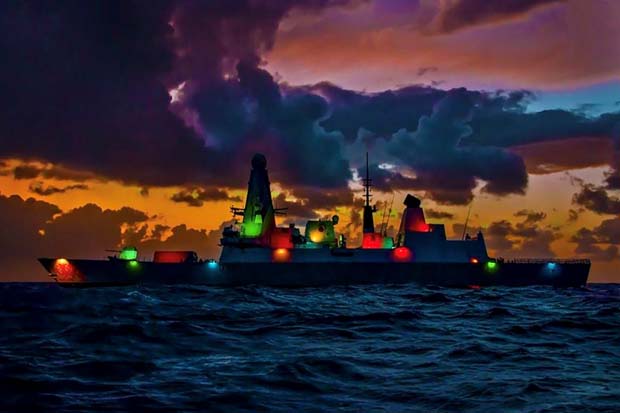 The position is not the first honour requiring royal approval that he has received – in 2007 the Queen made him an OBE for his work for pharmacy and the Asian community in Wales.
"I have always had a fascination with the Royal Navy, but I've never particularly been a seafaring type. This has given me an amazing opportunity to experience an exciting profession and way of life," he says.
His work has enabled him to see the "huge sacrifice that naval personnel give to be apart from their families for long periods when at sea".
Mr Aggarwal began his career in pharmacy by training at Cardiff University from 1969. He then worked his way through the ranks at Boots until he became senior manager at its store on Oxford Street, which was the chain's flagship pharmacy at the time.
But despite his success in London, he decided to return to Wales. "I came back to Cardiff because I loved the city. I built up a chain of six pharmacies, but that's back down to one now as I wanted to scale down my work," he explains. His family also has a "prospering" online retail business called Escentual.
His long list of roles supporting community pharmacy include the chairmanship for Community Pharmacy Wales and being a National Pharmacy Association board member for Wales.
Aside from his naval role, he is also an honorary consul for India, whereby he promotes trade between Wales and India. He has also been the chair of Kidney Wales, where he had a key role in campaigning to change the opt out law for organ donations in Wales to increase the number of organs available – which passed in 2015.
Mr Aggarwal says that his naval and pharmacy roles are different in many ways. "But they both share one common element of public service. I like interacting with people at all levels. This role is no different."